WOTOFO - SRPNT RDA 24mm
The Wotofo SRPNT RDA is a 24mm diameter dual coil RDA with a unique chainring design. The RDA's stainless steel construction gives it superior build quality.
Wotofo never fails to satisfy its customers with its products, and the Wotofo Serpent family is a product line that continues to deliver on the promise of an exceptional vaping experience for vaping enthusiasts.
This sleek and beautiful RDA boasts an innovative design that ensures a superior vaping experience using 5mm Claptons. The new 5mm ID Clapton coil can generate significant heat over a large area to ensure optimum vapor cloud production in an instant.
The Wotofo SRPNT RDA is structured to support dual 3mm coils, and single coils with The 5mm ID Clapton.
the SRPNT RDA airflow system is adjustable in 3 positions:
Four holes with a diameter of 1.9 mm
Four 1.6mm diameter holes
Two holes with a diameter of 1.9 mm
this dripper will necessarily be your favorite!
The 5mm ID Clapton is a dual-core fused coil for a unique construction that operates with a nominal resistance of 0.65 ohms, ideally operating at a power of 76 W. The 3mm framed staple Clapton coil is designed for dual construction, with a nominal resistance of 0.17 ohms, and works best between 60W and 75W.
You can select the coil setup according to your vaping preference with the 5mm Clapton ID for single coil setup or the 3mm clapton staple frames for dual coil setup. Adjustable airflow level control helps you fine-tune the settings to ensure you get the most out of flavor and vapor production and enjoy the superior performance of one of the best RDA coils you can ever get. put the hand.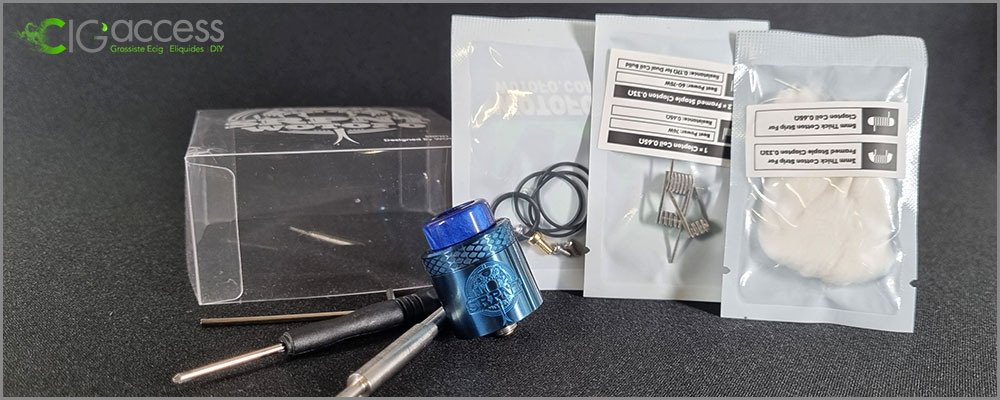 Caractéristiques:
Diameter: 24mm
Height: 22.7mm (without drip tip & 510 pin)
Drip Tip: 810 resin drip tip
Body Material: stainless steel
Coil Type: wire coil
Coil Config: 3mm ID dual coils / 5mm ID single coil
Juice Feeding Method: drip
Insulator Material: German PEEK
Threading: 510 thread

Contenu du Kit:
. SRPNT RDA x1
· 5mm ID Dual Core Fused Clapton 0.65Ω x1
· 5mm Thick Cotton Strip x1
· 3mm ID Framed Staple Clapton 0.33Ω x2
· 3mm Thick Cotton Strip x2
· Cross Head Screwdriver x1
· Allen Key x1
· Accessory Bag x1
· User Manual x1

You might also like
This Wotofo Vape Tool Kit provides a full coverage of your...
DEMON KILLER's E-cig Diy tool Kit contains :1 x Pliers1 x...
Wotofo Xfiber Cotton for 5mm ID is an additional component...
Customers who bought this product also bought: