Steam Crave - HADRON Pro 400W + Ragnar RDTA
The Hadron from Steam Crave makes its big release!
The Full Kit Hadron Pro from Steam Crave is an electronic mod delivering 400w of power. Never seen before. It is equipped with the DNA250C chipset and works with a 6400mah Lipo battery to vapot VERY long!
This mod has all the necessary protections and some mods such as temperature control, Replay and Boost
This kit comes with the fantastic Ragnar RDTA with a capacity of 25ml of e-liquid and a diameter of 35mm, the tray type postless can accommodate large mounts without worries but also a mesh tray or velocity.
 A MONSTER of vape to discover quickly!
Some information about the Hadron Pro 400 w + Raganr RDTA kit
Steam Crave launches its new toy: The Hadron Pro in three colors: Metal, black, gun metal.
It measures 116.1 mm high which is already very big, but wait until you see the width: 36.6mm. A monstrous Mod in hand! By its large size, it can also accommodate accordingly the majority of atomizers and clearomizers on the market. You can say goodbye to your different vapes. Steam Crave comes out a unique model to enjoy the pleasure of vape while keeping your old equipment. Its great compatibility allows you to enjoy 200% of your mod. It pushes up to 400W of power! This is huge!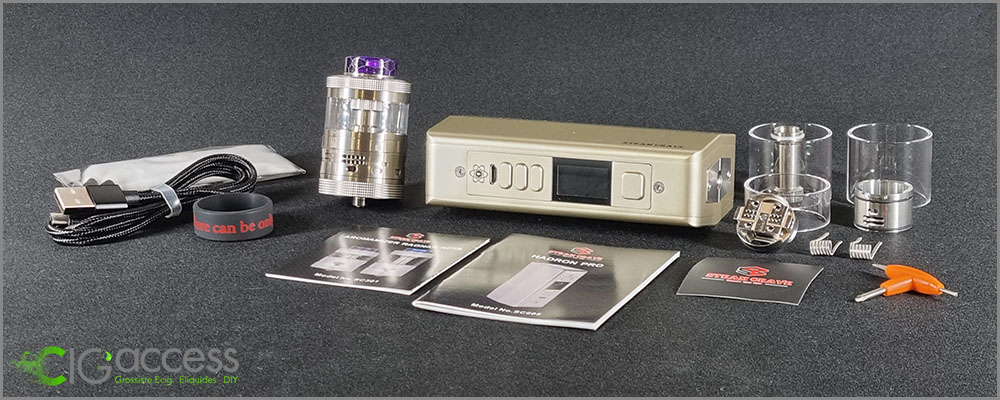 With its size, design and compatibility, Steam Crave meets these customers with a multitude of assets!
In addition to having a simple and sleek design, the Hadron Pro is an electronic mod with all the safeties: boost, replays and temperature control.
With these securities, vapotées in all peace.
But Steam Crave does not stop there and embeds a battery Lipo 6400 mAh. With its kit, Steam Crave launches a terribly monstrous and especially versatile vape. It has no limits!
In the kit Steam Crave, the Radron pro is embedded with a Ragnar RDTA.
The Steam Crave atomizer is removable rebuildable.
The tank can store up to 25 ml of liquid. Thanks to the deck, it is possible to place two coils and an adjustable airflow. This is unheard of.
Thanks to the versatile atomizer, the kit Hadron Pro 400w and Raganar RDTA metamorphoses to receive multiple accessories.
With its unusual shape and size, the Hadron and Raganr are unlike any other vape. They are unique in their kind with such a volume and elegance, that nobody imitates them. With its unusual dimensions, vape becomes versatile and interesting.
Steam Crave hits again with its new kit!
Caractéristiques :
Batterie intégrée : 6400mAh
Contrôle de température
Modes Replay et Boost inclus
Plage de température : 93°C à 315°C
Puissance : 400w
Résistance min. acceptée : à partir de 0.10ohm
Pas de vis 510
Diamètre : 35mm
Capacité : 25ml
Airflow réglable
Drip tip 810
Montages acceptés : Dual coils
Contenu du kit :
1 Box Hadron Pro DNA250C
1 Ragnar RDTA Advanced kit
1 Tube pyrex 18 ml
1 Réducteur de chambre
1 Plateau mesh
1 Plateau velocity
1 Kit de conversion de 25 ml
1 Vapband
1 Câble Micro-USB
1 Manuel d'utilisation
You might also like

The arrival of a monster in the world of vape! The Full Kit...

The Fullymax 4S 1600mah 30C Lipo battery is designed for the...
Customers who bought this product also bought: