Vaporesso - Luxe XR
Vaporesso offers a new kit: Luxe XR.
This new kit is available in several sumptuous variations.
Each kit offers a cartridge of 5ml or 2ml.
With its transparent body, you can see the chipset but also the integrated battery of 1500mAh.
It can push up to 40W of power.
Moreover, you have the possibility of putting the GTx resistors which are compatible with this new model!
A new model
 Vaporesso returns on its version of Luxury and offers a new compact and totally stylish pod.
Its semi-transparent body allows to admire the new chipset and all the integrated components.
Totally futuristic, the Luxe XR is fascinating. Moreover, in this new version, it offers a 1500 mAh battery. With this battery, the Luxe XR can produce up to 40 watts of power.
A new concept
In this new version, you will find a switch and a led to know when it is activated. This button allows you to activate the heating of the resistance and thus turn on or off your vape.
This vape is intended for the beginner vapoteur as the experts.
Side cartridge
The Luxe XR Vaporesso comes with two cartridges of 5ml capacity to put your favorite juice.
The XR cartridges have two types of tank. One dedicated to MTL and the second to RDL.
Moreover, the GTX resistors of the XR cartridges are compatible and allow a better flavor rendering for the Luxe XR.
Delivered in kit :
- 1 Luxe XR
- 1 XR RDL 5ml cartridge
- 1 XR MTL cartridge 5ml
- 1 GTX resistor 0.40 ohm
- 1 GTX resistor 0.80 ohm
- 1 USB-C cable
- 1 user manual
Characteristic :
- Brand Vaporesso
- Direct or Indirect Inhalation
- Type of electronic cigarettes Pod
- Integrated battery Yes
- Autonomy 1500 mAh
- Temperature control No
- Filling from the side
- Power 40 Watts
- 5 ml tank
- Airflow Non-adjustable
- Single Drip Tip
- USB port Yes
- Length 31.5 mm
- Width 21.6 mm
- Height 98 mm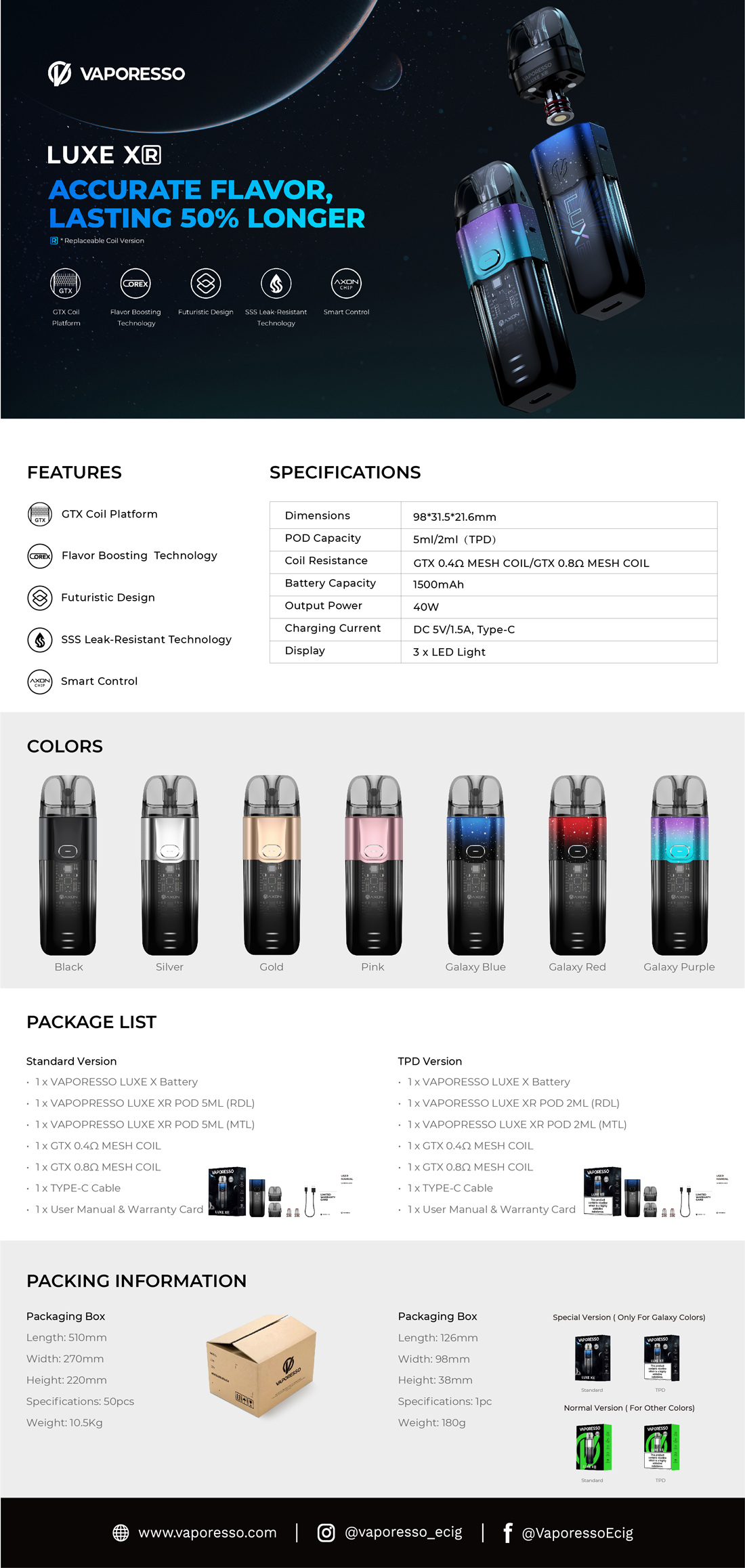 You might also like

Vaporesso offers replacement cartridges for the Luxe XR....
Customers who bought this product also bought: