GEEKVAPE - Aegis Mini 2 100W (M100) Mod
GeekVape honors its favorite mod in a new version more powerful the Aegis mini 2 the small of the family Aegis with a power of 100w. It has the same characteristics as its big sisters (dust, shocks, splashes ...) with integrated battery (2500mah) a great autonomy in everyday life and a fast charging speed with a new system quick charge USB type C.

In addition, it is equipped with a larger color screen of 1.08 inch with the new UI.
Some information about the product:

The Aegis Mini 2 100W is an electronic mod. With its ultra rugged and compact design, this mod will make a great entry into the vape world. Take your vape wherever you want with its small size. But make no mistake, the Aegis Mini 2 100W is ultra powerful. It incorporates a generous battery of 2500 mAh that recharges via USB-C.


A design like no other

With its ultra rugged design, this mod embeds the IP68 standard which ensures protection against water, dust and shocks.
To protect its vape, Geekvape covers its mod with silicone and places a locking bar on the side. Like that, the transport is assured without bad surprises.


A performance out of the ordinary

The box Aegis Mini 2 100W is equipped with a high-performance chipset and sends up to 100w of power. It also includes a host of protections.
Geekvape offers a mini mod with high performance! Something to delight vapers!

Order now from Cig Access, supplier and wholesaler of products and electronic cigarette equipment.
GeekVape also offers its Kit version: Aegis Mini 2.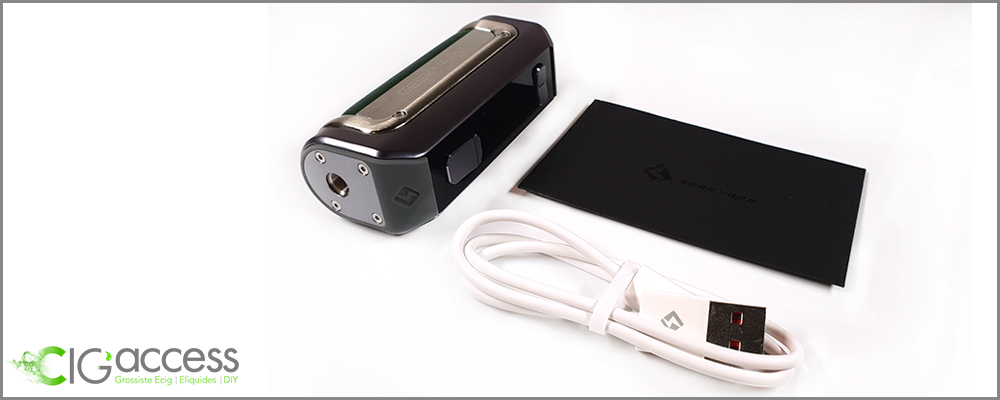 The kit contains:

o 1 box Aegis Mini 2
o 1 USB Type-C cable
o 1 user manual


Features :
o Brand GeekVape
o Origin China
o Type of electronic cigarettes Box
o Electro - Mecha Electronic
o Integrated battery Yes
o Autonomy 2500 mAh
o Temperature control No
o Power 100 watts
o Min. resistance accepted (in Ω) from 0.1 ohm
o Screw pitch 510
o USB port Yes
o Length 39.3 mm
o Width 25 mm
You might also like

GeekVape honors its favorite kit in a new version more...
Customers who bought this product also bought: