Vaporesso - Luxe XR Max New Colors
Vaporesso has introduced an amazing futuristic pod that offers remarkable performance. The Luxe XR Max Pod comes with a huge 2800 mah battery that provides hours of uninterrupted vaping pleasure. It is powered by the Axon chipset, which delivers an impressive 80 watts of power. The pod comes with a 5 ml Luxe XR cartridge that fills from the bottom and comes with 0.20 ohm and 0.40 ohm GTX resistors. In addition, the pod is compatible with Luxe XR cartridges. Overall, this product is fantastic and offers a great vaping experience.
A surprising pod
Vaporesso has designed an exceptional e-cigarette with a sleek, futuristic design that is sure to impress vape enthusiasts. With its slim construction, the device offers a comfortable grip and has a remarkable built-in 2800 mah battery for long-lasting use. The Luxe XR Max features a convenient USB-C charging port, a front-facing screen, and a chipset inside its body. Overall, Vaporesso has really outdone itself with this fantastic e-cigarette.
Cartridge side:
Vaporesso created the Luxe XR Max pod to give vapers a reliable and consistent vaping experience. The pod is designed to work seamlessly with disposable cartridges, known as Luxe X, which can hold an impressive 5 ml of e-liquid and are available in two different resistance levels - 0.40 and 0.80 ohm. The Luxe XR Max pod is incredibly versatile and can accommodate both MTL and RDL vaping styles, making it a fantastic choice for vaping enthusiasts.
Resistance side:
Vaporesso has you covered with their Luxe XR Max pod, which comes with two XR cartridges that can be easily refilled from the bottom. These cartridges work perfectly with the GTX resistors, guaranteeing you the best flavors and impressive vapor production. Trust us, the Luxe XR Max is a must-have e-cigarette that will leave you breathless!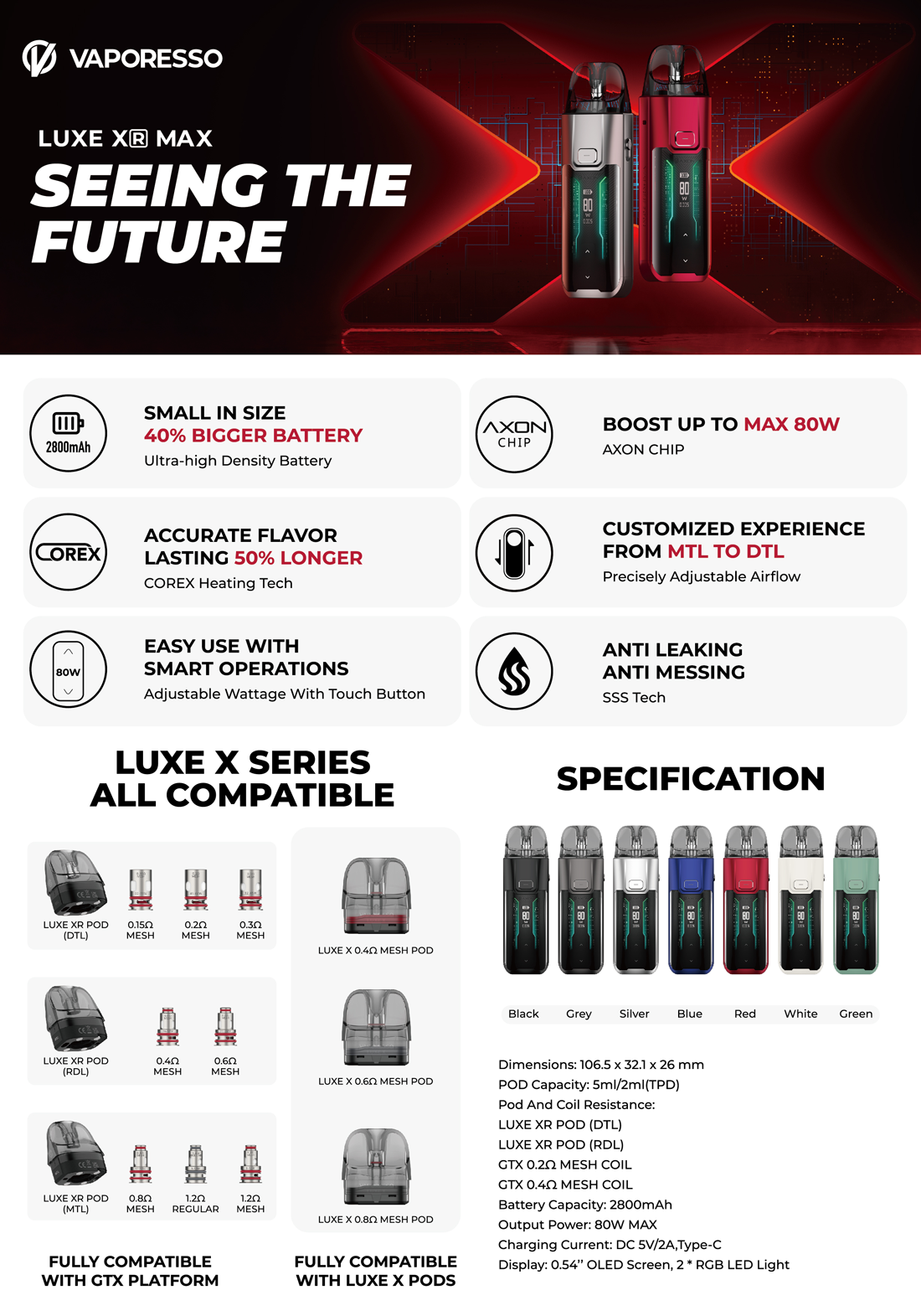 You might also like

Cartridges for luxury X/XR/XR Max of 5ml sold by 2 from...

Vaporesso offers replacement cartridges for the Luxe XR....
Customers who bought this product also bought: