QP Design - Kong Limited Edition 28mm RDA News color
QP Design launches its Kong Limited Edition with an exceptional dripper
The Kong Rda 28mm Limited Edition from QP Design is a massive, modular 28mm diameter dripper. This Limited Edition kit comes with a dual-coil tray. The space inside the screws will allow the assembly with thick wires. Mounting will be easy on the PQ shaped tray.
The Kong RDA offers you refined flavors thanks to the precise management of the airflow.
In this Master kit you will find as usual at QP Design several caps and drip-tip and a Pin Bf inside the box.
It is therefore many possibilities to modify the look of the dripper in a single box.
Limited edition of 2,200 pieces.
QP Design launches its new dripper on the market
The Kong RDA is a Canadian dripper with a diameter of 28 mm. With this dripper you can install two coils. Thanks to the Kong RDA's large tray and atomizing chamber, you can mount coils on it.
To be on top of the market, the Kong is equipped with an airflow adjustment to keep the flavor of the inserted liquids in the center. Thanks to the top-cap, you can adjust it more easily by turning.
The Kong RDA of QP Design is the most expected of the market! This rebuildable atomizer will appeal to all vapers.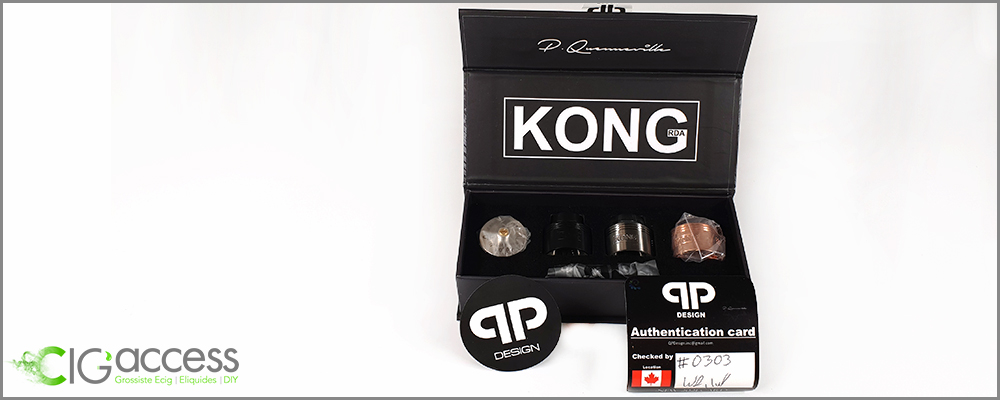 A 28 mm diameter dripper
QP Design is a giant of the vape recognized for its rebuildable Canadian atomizers. The creator puts back on the market a dripper that borders on perfection: The Kong RDA.
Developed with great care, QP Design offers a limited edition of this little wonder. Only 2200 pieces. To seize quickly.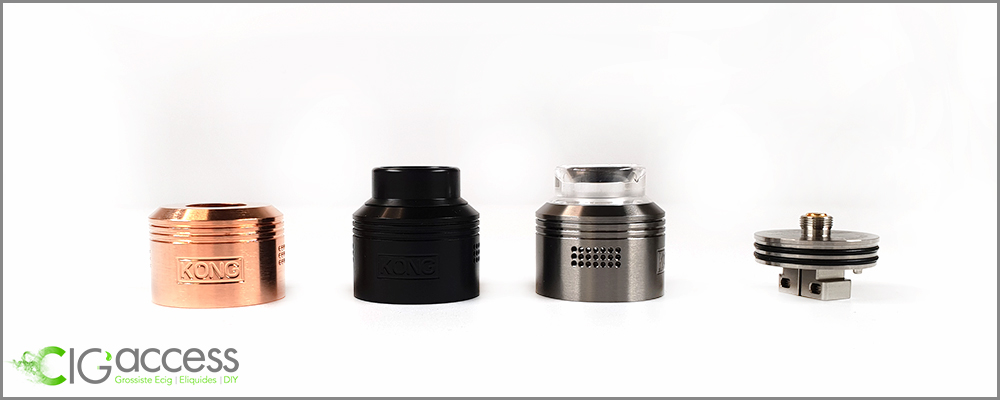 Integration of a double coil
The Kong from QP Design is a versatile RDA that comes with a desck. Thanks to the wide tray of the Kong RDA, it is possible to install a double coils. With its chamber of atomizer rather imposing, the coils can be thick.
With its possibilities out of the ordinary, Kong will seduce the most gourmet vape in the blink of an eye. A dripper accessible to all with a high level of performance.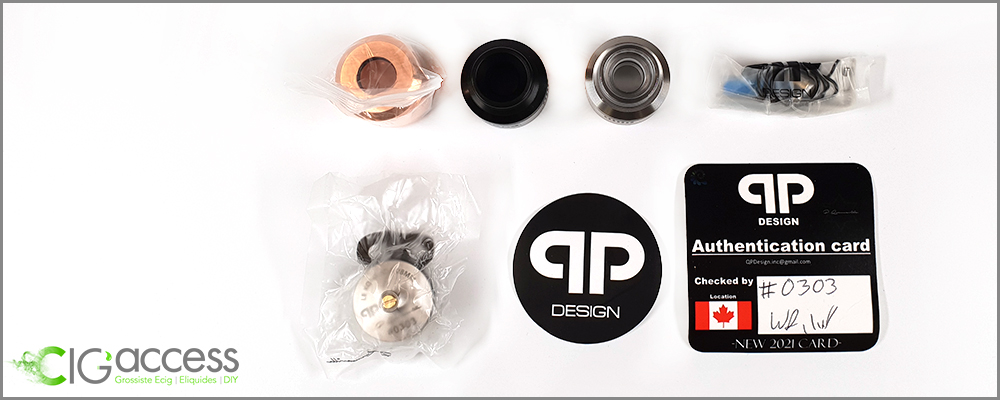 A limited edition to order quickly!
QP Design already very well known on the market releases a new revolutionary product integrated in a pack. A limited version consisting of a Kong RDA 28 mm with caps. You will be able to customize your atomizer as you wish. To complete its offer, QP Design includes two drip-tip 810.
A box collector not to be missed!
By its ultra elegant and minimalist design, the Kong RDA goes everywhere. It fits easily and gives a high-end style to your vape.
Available in 3 colors, you just have to hurry to order it.
The Kit Contains:
1x Kong 28mm Diameter
1x Black 810 Drip Tip
1x Clear 810 Drip Tip
1x Stainless sleeve and cap
1x Matte Black sleeve and cap
1x Brass sleeve and cap
1x Squonk pin
1x Spare O rings
1x Accessory bag
1x Serial number
You might also like
DEMON KILLER's E-cig Diy tool Kit contains :1 x Pliers1 x...
Specially selected for vaping, Wotofo cotton absorbs quickly...
QP Design finally released its mechanical mod and will please...
Customers who bought this product also bought: